---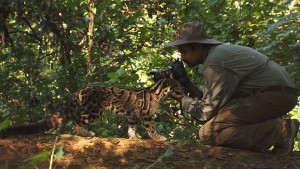 In 2009 a dream project shifted my base camp to North-Eastern India. My job was simple albeit a bit broad – document the natural and cultural treasures of the Eastern Himalaya. One of my target species of course, seek was the clouded leopard.
I knew my chances of seeing one was practically non-existent, ask but just knowing that somewhere in the jungles around me this cat prowls was enough to keep me excited and look for signs of its possible presence. I traveled all along the foothill forests of the Himalaya and although local people knew of the clouded leopard, finding one was nearly impossible.
Return of the Clouded Leopards follows the work of wildlife photographer Sandesh Kadur and Wild Life Trust of India Vet Dr. Bhaskar Choudhury, as they undergo the unique rehabilitation of two orphaned clouded leopard cubs to their natural jungle habitat.
The pair of rare clouded leopard cubs were rescued from poachers and raised by conservationists who teach them everything their mother would have to help them survive.
Only about 10,000 clouded leopards remain in the wild – and the species is classified as 'vulnerable' in the IUCN Red List of threatened species. An extremely shy, nocturnal and tree-dwelling animal, it is found in the north-east of India.
---
Run Time: 45 mins.
Release Date: 2011
Aspect Ratio : Widescreen
---
---