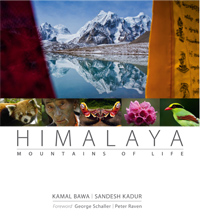 Pages: 306
List Price: Rs. 3500
Binding : Hardcover
Publisher: Ashoka Trust for Research in Ecology and the Environment;
1st edition: January, 2013
Language: English
ISBN:978-1-61584-512-5
Product Dimensions: 12.2 x 11 x 1.1 inches
Shipping Weight: 4.4 pounds
From the great canyon of Yarlung Tsangpo and the Siang Gorge in the east to the Kali Gandaki Gorge in the west,  the Eastern Himalaya encompasses within its vast realm,
ancient mountain kingdoms, forested valleys and snow-covered peaks – all in a relatively young landscape, still growing, higher and more enigmatic each day. Within its rugged folds lay many mysteries, new species, primeval cultures and the promise of magical cures to heal all humanity. No doubt, the greatest mountain range on earth the Himalaya hides many treasures.
This book attempts to unravel these treasures and showcase what lays hidden to the cursory eye with the hope that some value is added to our biocultural treasures which otherwise, will certainly disappear. Himalaya, takes us on a journey through these Mountains of Life and tells us why preserving this heritage is important, not just for us, but for the future of all life on earth.
---
"From the plains of the Brahmaputra River, the home of the Great Indian Rhinoceros, up through the evergreen and coniferous forests to the alpine meadows, and finally to the sublime peaks and glaciers, this book celebrates scenic splendor and the glorious variety of plants and animals."
George Schaller Panthera and Wildlife Conservation Society
"The text and photographs of this book capture the sheer beauty of the Himalaya at every scale, from the intricate detail of a moth's wing to the sweep of vast alpine landscapes."
Rohini Nilekani Chairperson, Arghyam
"Through the combination of visual and textual material, readers will be able to understand the richness of Eastern Himalayan life and the importance of conserving it—both for its own sake and because it collectively forms the basis for continued human existence."
Peter Raven Missouri Botanical Garden